I live in Sacramento, CA. I was not born here; I was born in Washington, D.C., and lived there for thirty years. I came here for school and really never left. My plan was originally to get the hell out to a "real" city, like Los Angeles, San Francisco or Seattle, but I never got around to it. Now I love it here and will probably stay until I retire (though my career may in fact take me to Seattle someday before that). Here are some pics of the town.
This is the city from our waterfront. Sacramento is the capitol of California. We have a very, very well developed Old Town here that has been reconstructed with a lot of Old West architecture. We are also a major transportation nexus, as two major river systems meet here, four major highway systems converge, the California Deep Water Canal ends here (giving us direct access to the Pacific). In the nineteenth century we were the terminus for the Pony Express, and the end of the transcontinental railroad. Gold and Transportation built up the city you see, though now we are a government and financial center for California. We also have an enormous agricultural base. Our two major crops are rice and tomatoes, though if it will grow in the ground anywhere on Earth, it will grow in the Sacramento Valley, and likely does somewhere. The picture below shows some of the Old West stuff. The building on the right we call Darth Vader. The onle on the left is our federal courthouse:
The picture above was taken from the docks of this building. It was the corporate headquarters for The Money Store (a high-risk, short term lender and financer of durable goods) until they went belly up in the 90's. Now it is the HQ for the California Department of General Services: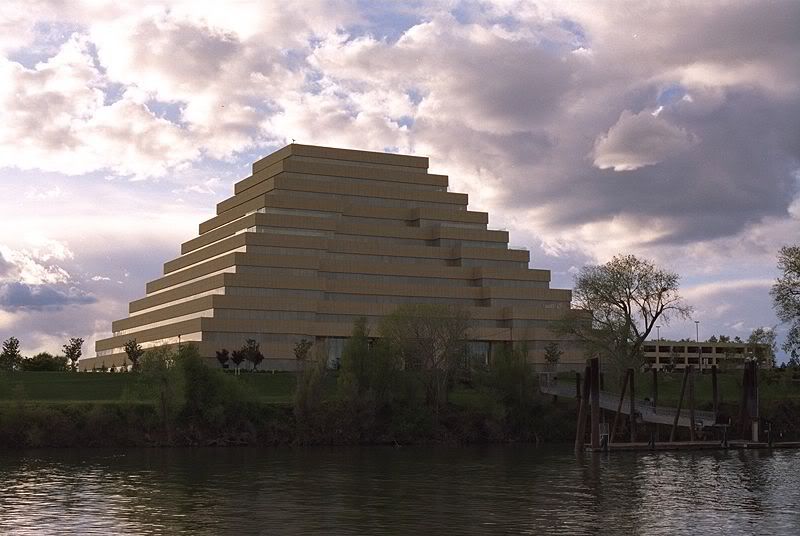 The Tower Bridge is one of our landmarks, and you will see it in most touristey photos of the city. It connects West Sac with Sac, and will in a few years be the starting point of our proposed River Walk.
We are well known for our foliage here, and have more trees by number and per capita than any other city in the U.S., second in the world only to Paris. This is our Roman Catholic Cathedral.
Our baseball team, The Sacramento River Cats, are one of the best teams in all of AAA baseball, and our stadium, Raley Field, is the envy of even some major leaguers:
We had modest beginnings: