I was browsing one of the used bookstores today and came across this: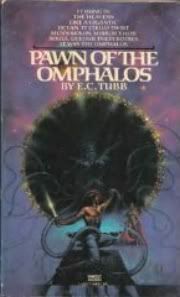 Pawn of the Omphalos, by E.C. Tubb, 1980.
The printing at the top reads:
IT HUNG IN THE HEAVENS LIKE A GIGANTIC OCEAN.
IT COULD TWIST MEN'S MINDS, MIRROR THEIR SOULS, DEVOUR THEIR BODIES.
IT WAS THE OMPHALOS.