Dune, by Frank Herbert - Omphalos' Review
Posted:
Mon Dec 22, 2008 4:52 pm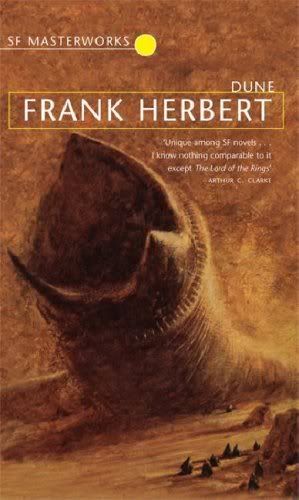 "Dune is the greatest SF novel ever written." Those are the generally the first words out of my mouth whenever someone asks me about this book. I know of some places on-line where I can find a few thousand people who will readily agree with me, but if I looked a bit harder, I'm sure that I could find millions. Dune is one of those very few SF books that has enormous appeal outside of the genre. Just look around at the book blogs on the internet; you will find hundreds of bloggers who say things like "I don't really read SF, but Dune was fantastic!" Dune has also garnered in its 40+ year history some serious critical praise as well. This big book has been deconstructed and analyzed by the best of them, so I'll just repeat briefly what we all know, and then get into my ideas about this book. It is the story of Paul Atreides, the unintended end-product of a genetic breeding program, as he became a man. It is the start of Herbert's rally cry against the appearance of charismatic leaders whom the masses always seem to embrace in times of trouble, although that particular theme does not get the attention it truly deserves until the next two books. , more so than Dune Messiah and Children of Dune is rooted more in the adventure-focused camp of tales, though it has an incredible amount of wisdom to impart on its reader. It is a story of political intrigue, in which an emperor and a royal House plot against a rival house, defeat it in a sneak attack the ferocity and size of which took the target completely off guard, and drove its scion and his mother out into the wilderness where they encountered a race of men who were waiting for their Messiah, which the boy pretends to be to great effect. It is the story of how Paul Atreides took advantage of his genetic heritage, became a superman who was viewed by most as a god, and created a future that changed the entire galaxy...
Please click here, or on the book cover above, to be taken to the complete review.
.