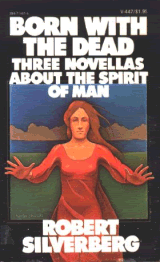 For a big part of his career it seemed to me like Robert Silverberg was not very interested in writing conclusions to his stories, and in some cases would even abandon any kind of plot too. In their places though he became quite adept at character and emotional development, and as a result of that long phase of his career, he has one of the best abilities with interpersonal stories. Born with the Dead is a Nebula Award winning novella that is about how people react to death. Three out of five stars.
As I hinted above plot is not the most important element here. In Born with the Dead Jorge Klein has recently lost his wife, Sybille, but Sybille has undergone a procedure called "rekindling" where she was awakened after her natural death by a new medical procedure. After being rekindled she lived in a "Cold Town" with others of her kind, but in the years after the deads started to emerge slowly to the world of the "warms," where they traveled as tourists or continued on with their life's work. Sybille was doing...
Please click here or on the cover above to be taken to the entire review
.